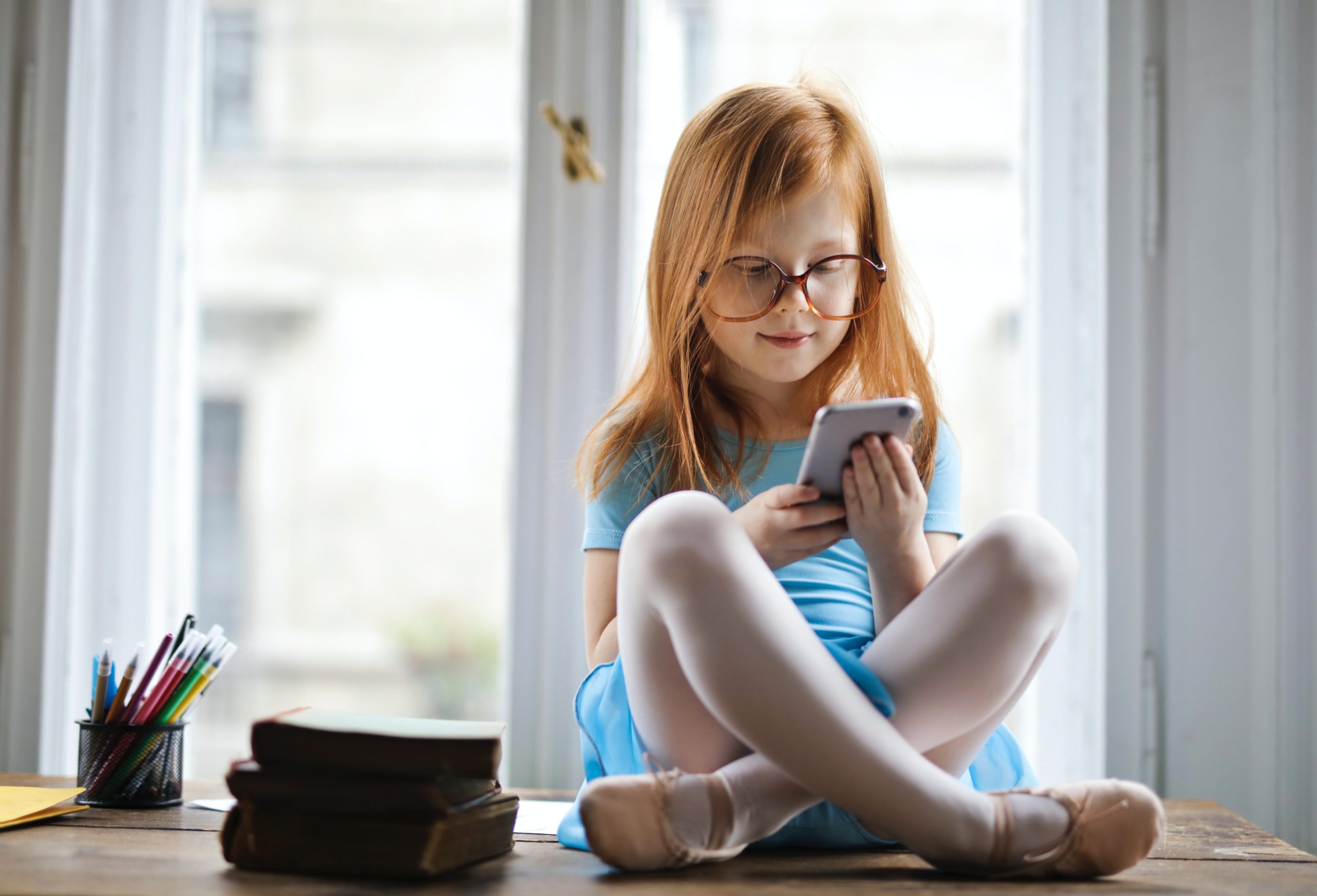 POSTED BY: MARILEE COMFORT ON MON, AUG 7, 2017
For years, many of us have questioned whether too much television time hinders young children's development. There's ample research evidence showing that TV can adversely affect attention, sleep, language and social development.  Now, there's a new wrinkle to this question. What's the effect of handheld screen time (e.g., smartphones, tablets) on language development?  Parents don't carry a TV in their pockets, but most parents do carry a smartphone.  When infants and toddlers start squirming on the bus, whimpering at a restaurant, or racing around the waiting room at the doctor's office, what's in your pocket?
Who Uses Smartphones?
Let's start by considering a few facts.  In the U.S., 77% adults say they own a smartphone.  Nearly all, 92% of 18-to 29-year-olds own a smartphone.  Among teenagers ages 12-17 years, estimates show that 88% own mobile phones, of which 84% are smartphones. Turning to younger children, in 2013 a U.S. national survey found that 75% of children under 8 years had access to smartphones or tablets at home, and used them an average of 1 hour per day primarily to read books, watch DVDs, listen to music and play games. For children under age 2 years, 38% had used a smartphone or tablet primarily to listen to music, read books, and watch DVDs. In a 2017 study, Canadian parents reported that 20% of their 18-month-old toddlers experienced a daily average of 28 minutes of handheld screen time (smartphones and tablets). Clearly, smartphones are a pervasive part of our 21st Century culture which begins with babies. It behooves us to understand their impact on young children's development and to use screen time wisely.
Screen Time for Toddlers?
Now, let's take a closer look at the cutting edge Canadian research study cited above. It has received a lot of media attention because it goes beyond the effects of TV time and delves into very young age groups. The study included nearly 900 Canadian infants and toddlers, ages 6-to 24-months-old, who received routine healthcare at the Hospital for Sick Children in Toronto. The pediatric practice-based research team asked parents to answer a questionnaire at their toddlers' 18-month check-ups about the amount of screen time their children experienced per day and to complete a screening checklist for detecting speech delays. 
What Did the Researchers Discover?
The study found that the more handheld screen time parents reported, the more likely their toddlers were to have delays in expressive language skills. For every 30-minute increase in handheld screen time, there was a 49% increase in the risk of speech delay. Yet, no associations were found with other communication skills, such as using gestures or body language.  It's important to note that these results showed correlations, not causation. Thus, the research did not say that screen time causes speech delays; rather that there seems to be a link between them.  Further research is needed to tease apart the types of screen activities toddlers experience, the effects of passive versus interactive screen time, and how screen time facilitated by parents may influence children's language development.  
Screen Time Recommendations
The effects of smartphones, tablets and computers on children's development is a rich research area in its early stages and is of worldwide interest.  As pediatricians watch for further research, those in the U.S. and internationally use the 2016 recommendations of the American Academy of Pediatrics to counsel parents on screen time guidelines for their children:
For children less than 18 months: Avoid screen time except video-chatting;
For ages 18 to 24 months: Select high-quality programs; Watch/talk with your children to help them understand what they see;
For ages 2 to 5 years: Limit screen time to 1 hour per day of high-quality programs. Watch/talk with your children to help them understand and apply it to the world around them;
For ages 6 years and older: Use consistent limits on the time and types of media. Make sure screen time does not replace adequate sleep, physical activity and other healthy behaviors;
For Families: Set media-free times together, such as dinner or driving, as well as media-free locations at home.
Note that the key element of healthy screen time for children under 6 years and beyond is interweaving it with social interactions to build communication skills and enhance children's understanding of the world outside of the smartphone or tablet.  This is the best way to prepare children for their future family, school and work lives.  Early childhood technology specialists at Tufts University suggest to preschool teachers:  
". . . the more important skills to teach have to do with playing with other children and nothing to do with machines: human skills that machines can't easily replicate, like empathy, collaboration and problem-solving. . . . And children learn better, they say, by playing and building instead of sitting behind screens. We don't want all these young kids sitting in front of a computer . . . We want them to move around and work with each other."

(How to Prepare Preschoolers for the Automated Economy, The New York Times)
Need More Screen Time Guidance?
If you're looking for further guidance about smartphone, tablet and TV time for your own children or for the families you serve, go to ZERO TO THREE.  They have developed a webpage full of articles, podcasts and a series of resources, such as Screen Sense: Setting the Record Straight—Research-based Guidelines for Screen Use for Children Under 3 Years Old.  You can stay up to date on key research findings, myths, FAQs and tips from experts to help families make their own decisions about screen time for their children.
KIPS was developed before smart phones were widely used by parents with young children. When we were developing KIPS, we saw that playing video games influenced parent-child interaction. I wonder how small screen time influences parent-child interaction. Please tell us about your observations in the Comments section below this blog.